Since the introduction of the first practical implementation of blockchain over ten years ago, the technology has found a myriad of use-cases in a wide variety of industries, including fintech, healthcare, digital identity, Internet of Things (IoT), and logistics. Many of these industries have already been marching towards digitisation of their internal processes for the past few years, making blockchain integration only more advantageous due to its increased security and reliability benefits.
Even besides the fact that blockchains cannot be easily hacked or compromised, the technology offers a great deal of other benefits ranging from decentralisation to duplication. The latter is extremely important for companies that require stored data to be available at all times and for an indefinite period.
The Blockchain Age: Why it is important
Traditional data centres can be wiped out by bad weather conditions, intermittent connectivity issues, and even political turbulence in a given region. In stark contrast, blockchains have multiple computers - thousands or even millions - store a copy of the ledger at all times. Unlike traditional databases that can be modified or written to by a lone rogue or malicious individual, blockchain requires the consensus of a majority for any changes to be finalised. As a result, security breaches in a well-implemented blockchain network are practically unheard of.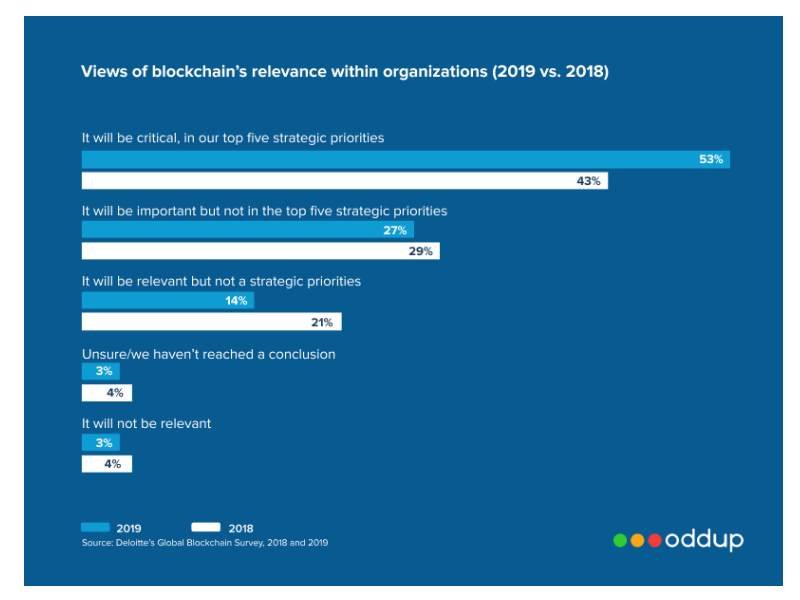 In Deloitte's Global Blockchain Survey, 53% of respondents said that blockchain technology has become "a critical priority for their organisations in 2019." When it comes to blockchain adoption, many companies are now following in the footsteps of behemoths such as IBM and Microsoft that have invested large sums of money and resources into their respective blockchain endeavours. While IBM has partnered with shipping giant, Maersk, to build a blockchain-based supply chain platform, Microsoft is aiming to become a driving force in the enterprise sector by offering Blockchain as a Service (BaaS) solutions through its Azure cloud brand.
Blockchain Investment Is on the Rise
Given the sheer potential of blockchain, it is not surprising that a number of new startups are attempting to find unique use-cases for the technology outside of the traditional finance ecosystem. This is perhaps best exemplified by the fact that venture capital investment in blockchain startups increased by 280% in 2018, according to research group, Diar. While 2017 saw startups in the distributed ledger space raise around $1 billion, the total for 2018 ended up being closer to $4 billion.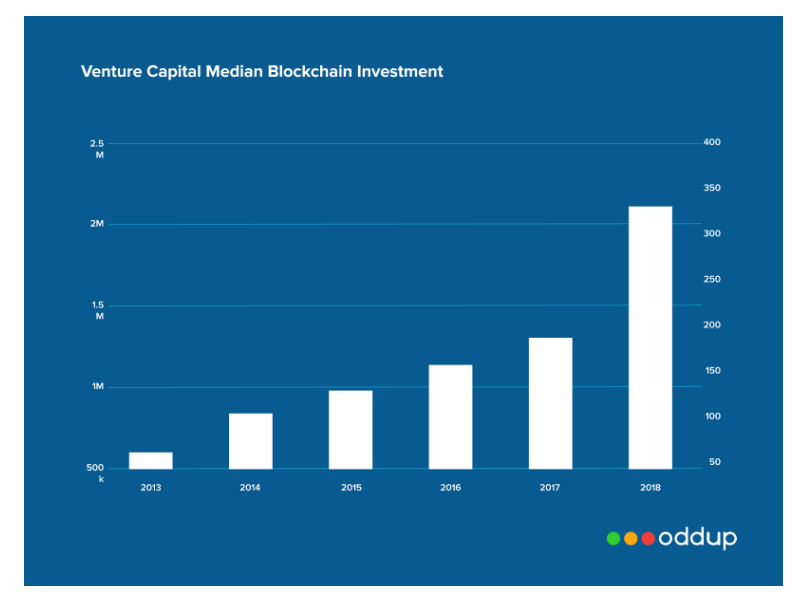 The average size of VC deals is on the rise as well, with Diar estimating the median VC investment in a blockchain startup to be around $2.5 million as of 2018. While many cryptocurrency companies chose to raise funds via Initial Coin Offerings (ICO) or public token sales in 2017, startups focused on use-cases outside finance continue to favour the traditional venture capital fundraising route. Furthermore, the vast majority of tokens sold and distributed in 2017 lost a considerable amount of valuation over the past two years, leading to financial struggles at many ICO-funded startups.
Finally, blockchain companies are starting to favour VC investment once again because of the increased credibility that comes with a veteran firm or investor.
Insights on Blockchain Startups
As a result of the above factors, traditional investors and deal advisory teams at various companies are now actively scouting for potential unicorns in the blockchain industry. However, given that the technology and associated startups are rapidly evolving due to their relative immaturity, identifying key growth factors and obtaining actionable insights on blockchain companies can be an extremely challenging and time consuming task. To meet this growing demand for high quality data on the global blockchain ecosystem, Oddup offers a real-time startup tracking platform that allows investors, M&A teams, and others to obtain due diligence insights quickly and efficiently.
As consumer and enterprise interest in distributed ledger technology continues to grow, it's likely only a matter of time before the number of blockchain startups matches that of other cutting edge technologies like artificial intelligence and IoT.
Disclaimer: Content Produced by Oddup