The price of cryptocurrencies has been in a stagnant state for extended periods of time now. This hold came days after Bitcoin had almost surged towards the $9000 mark, after which the market went lull.
At the start of the new week, let us look at how Bitcoin's price action compares to altcoins such as XRP, Litecoin, Tron and Monero.
Bitcoin:
The world's largest cryptocurrency has been waiting to deliver to its investors after weeks of buildup. Although the asset is in a much better place now than it was at the close of last year, investors expect more. After a week of slow growth, the past 24-hour have been surprisingly good to Bitcoin.
At press time, Bitcoin was trading for $8661.94 with a total market cap of $157.511 billion. This is the first time since October 2019 that the market cap has stayed above $150 billion for more than two weeks. Bitcoin's 24-hour market volume had increased to $24.656 billion after a 3.35 percent increase in the daily spectrum.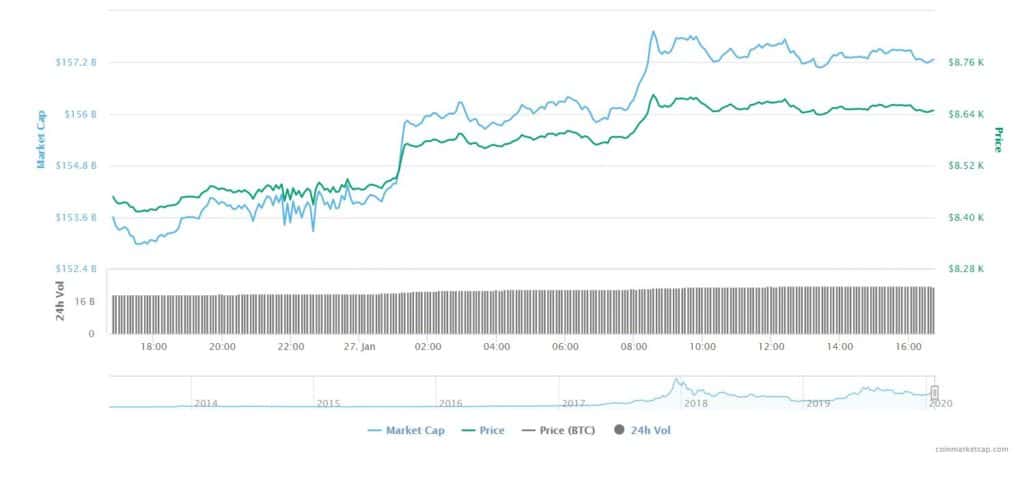 Looking at Bitcoin's price action over the past 2 days, it was evident that Bitcoin was in bullish territory. Since January 25, Bitcoin's price moved from $8331.4 to its current hold at $8657. This rapid increase in price was also reflected in the altcoin resurgence.
XRP:
Ripple's native cryptocurrency has been trying to solve its own problems in the price spectrum. Despite its community fully supporting it, the third-largest cryptocurrency has yet to show some grit on the charts. As the indicators flashed green, some members expected XRP's price to shoot up greatly.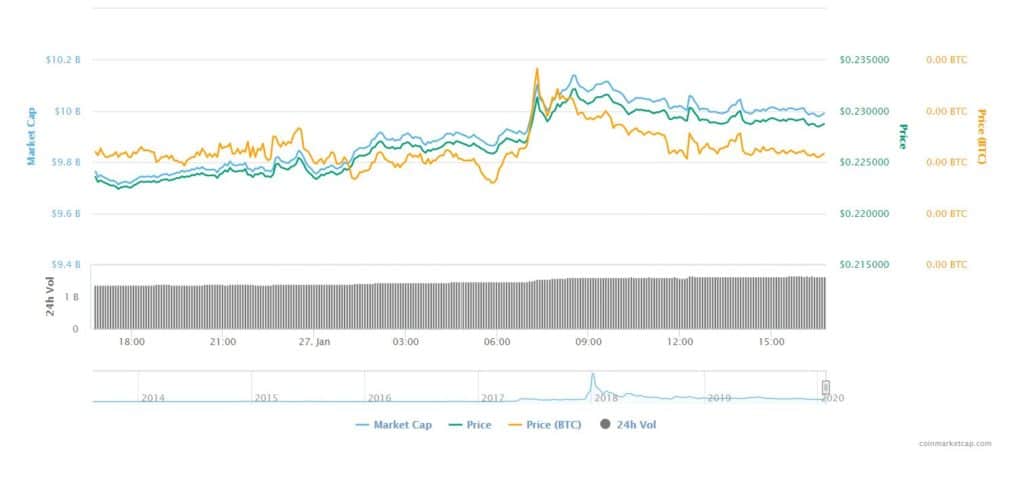 At the time of writing, XRP was trading for $0.229 with a total market cap of $10.009 billion. After a volatile day, the 24-hour market volume for XRP had risen to $1.643 billion. Over the past week, XRP decreased by 7 percent which brought the cryptocurrency back beneath the 100 days EMA. XRP's immediate support was holding at $0.209.
Litecoin:
Litecoin or 'Bitcoin Silver' as it is popularly called has a very sombre 2019. With a lack of major price fluctuations, it was evident that the 7th ranked cryptocurrency was more focused on network developments. That theory, however, did not stop Litecoin from following in Bitcoin's bullish footsteps.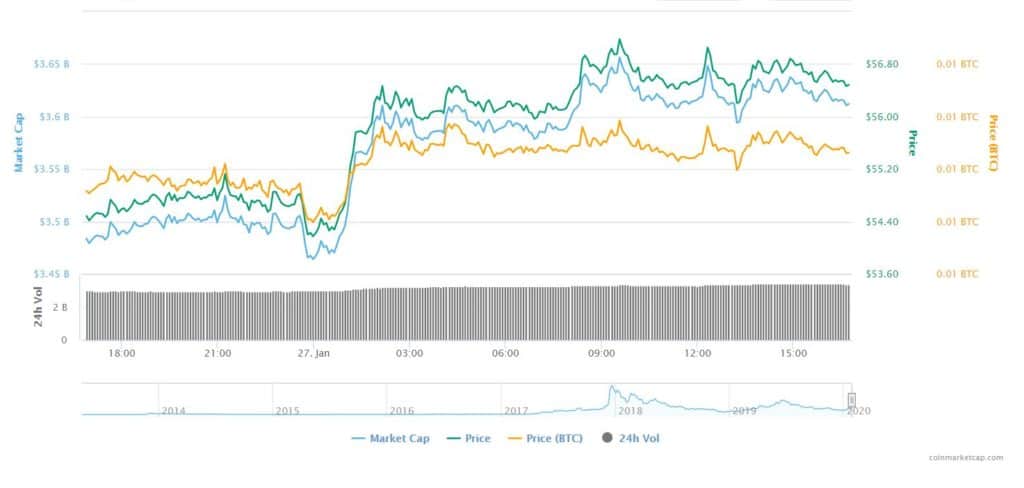 Litecoin suffered its worst dip in a week on January 24 when the price fell to $51.7. This crash came unannounced as the LTC value was holding steady at the $58 before it. Since that dip, Litecoin has gone from strength to strength on the charts. Currently, Litecoin was trading for $56.64,a marked increase from its 2019 lows.
The LTC market cap was at $3.626 billion while the 24-hour market volume was $3.409 billion. Since Sunday, Litecoin has been growing at a steady rate of more than 4 percent.
Tron:
The Justin Sun founded cryptocurrency had fallen to 13th place, just days after settling at number 11. This occurred due to rapid pushes made by its compatriots with which TRX could not keep up. The new week, however, was proving to be positive for Tron because it too had jumped aboard the price bandwagon.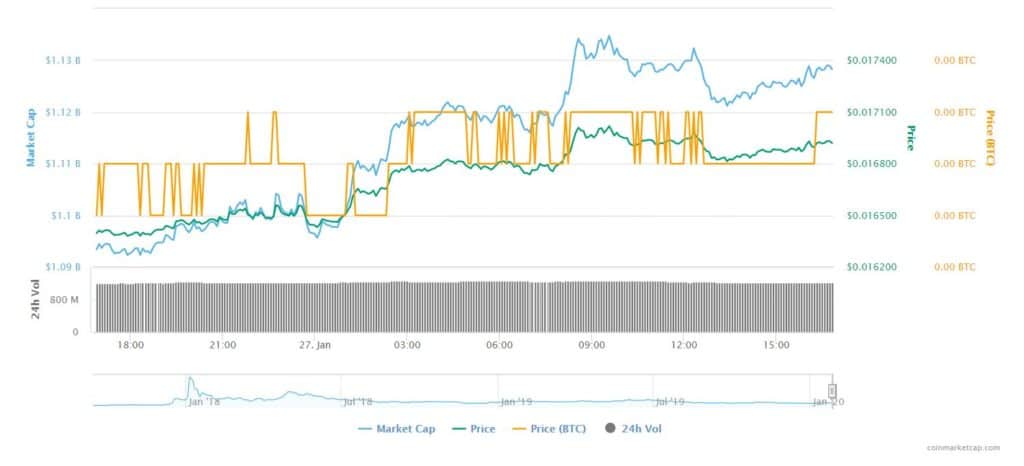 Tron showed similar patterns to that of other altcoin surges. All altcoin price surges started sometime after January 25, with no explanation whatsoever. The Tronics has rallied behind Tron completely and were expecting an imminent price hike. After the 24-hour surge of 3.62 percent, Tron was trading for $0.016. Tron's market cap was had fallen to $1.125 billion while the 24-hour market volume was at $1.216 billion.
Monero:
Monero was in the thick of the price action for the first time in months. Despite its approach towards network developments, XMR investors have demanded a price increase for months. Jut like its compatriots, Monero too had a tough 2019. The cryptocurrency has been trying to shake off the bull since then and the latest hike may help it do so.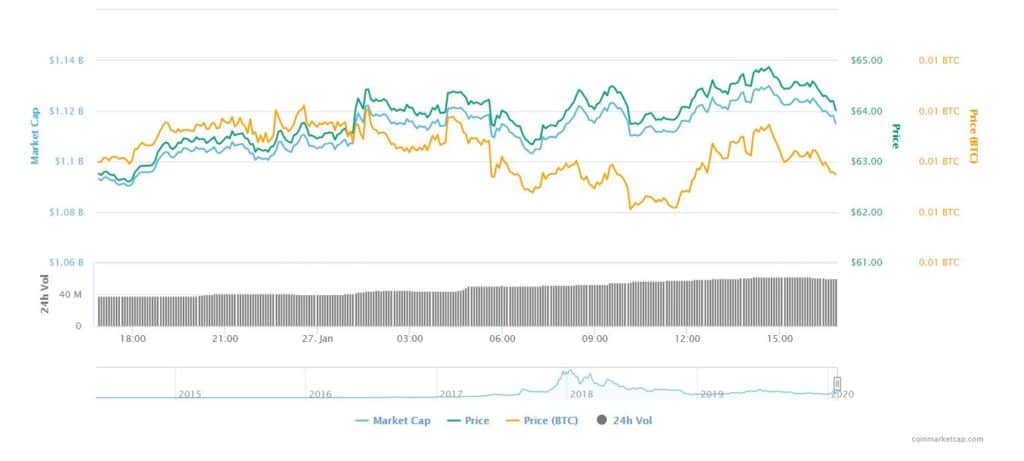 Monero's current price point of $64.53 was still lower than its January 18 price of $69.46. Even then, Monero was steadily climbing on the charts with its latest 3.84 percent growth helping it out. The 14th placed cryptocurrency held a market cap of $1.12 billion and a 24-hour market volume of $61.775 million.
Conclusion:
The top cryptocurrencies on the charts have their hands full with the bear. The week has started positively for them and holders would love to see the current price action continue.