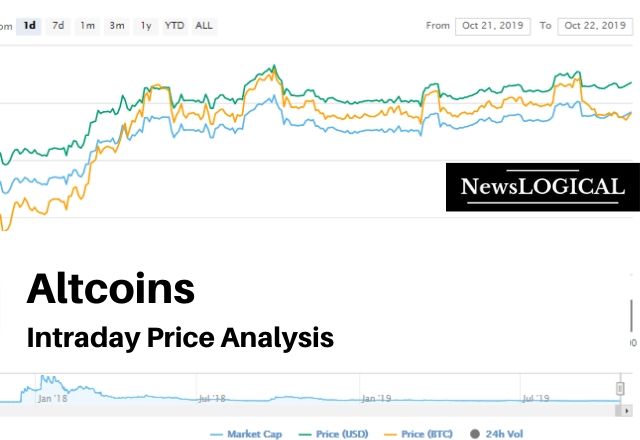 The crypto market has been struggling in the past few weeks, with a massive panic within the market due to the Coronavirus pandemic. This has resulted in highs and lows for leading coin Bitcoin from its mid-February highs of $10,000 to its lows of $3,800.
This bearish dive has done significant damage to the market's technical strengths with several analysts and investors fearing the worst which is in contrast to the optimism displayed at the beginning of the year.
At the time of publication, the total crypto market cap has surpassed $170 billion and sits at around $176 billion. The crypto market is also largely green with several coins making slight gains in the last 24 hours of trading.
Binance Coin (BNB) Intraday Analysis
Binance Coin is among the cryptos that are in the green with the coin making a gain of 2.48% in the last 24 hours. This is slightly in contrast to yesterday's trend, suggesting a temporary reprieve for the coin at the start of the trading week.
The ninth-ranked coin based on market cap is currently valued at $12.18 with a daily volume of about $1.8 billion. Looking at the trend, the next support level for BNB is $11.50 while an extended positive movement could see the coin hit the $12.50 mark by the end of the week.
Ethereum  Intraday Analysis
The major altcoin has been in recovery in the past few days following a drastic drop in its value. ETH gained 3.09% in the last 24 hours and is currently priced at $133.31 per unit.
Ethereum is one of the assets that typically suffers when investors lose faith in the market. However, there could be a silver lining for the coin with the crypto market appearing to be reaching a stabilizing point.
The next support point for ETH is $125 while it could attempt to make a move at its resistance point of $139 in the coming days.
Monero (XMR) intraday analysis
Privacy coin Monero was also hit hard with the bearish sentiments within the market in the past month. Just like the aforementioned coins, XMR enjoyed solid gains in the last 24 hours.
The coin gained 2.63% against the US dollar and is currently valued at $47.11. XMR has its next resistance levels at $49 while a bearish turn could see the coin drop to support levels of $45.