Ethereum has been one of the best performing cryptocurrencies throughout the past few days, with its recent upswing allowing it to put some significant distance between its current price levels and its recent lows.
This uptrend was fueled in part by the bullishness seen in the aggregated market, but was perpetuated by news regarding a significant influx of institutional funding into the crypto in Q1 2020.
Now, ETH is showing a major uptick in high-value transaction volume, indicating that large players are shifting tokens around in the midst of this recent bullishness.
Ethereum

sees a notable influx of institutional funding
Per Grayscale Investment's latest quarterly report, the company notes that inflows into their Ethereum Trust have been surging as of late, flipping that seen by Bitcoin in the time following March 10th.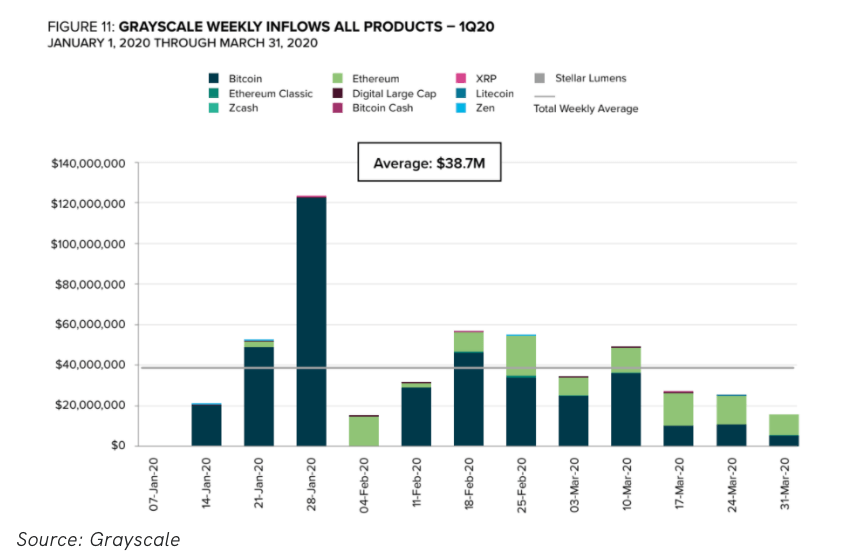 This unprecedented flip in institutional inflows marked the end to a quarter in which ETH saw a massive jump in the number of institutions directing capital towards it.
Spencer Noon, the head of crypto investments at DTC Capital, spoke about the news regarding the influx of "smart money" funding into Ethereum in a recent tweet, saying:
"Institutional investors are buying ETH. The cat is officially out of the bag. From the latest [Grayscale] report: Ethereum Trust saw $110M in Q1 inflows. This is more than all of its previous inflows combined for the past 2 years ($95.8M)."
It's unclear as to what the impetus for this sudden surge in institutional funding into ETH was, but it may have been partially due to its firm outperformance of Bitcoin throughout the early part of the year.
ETH sees sudden uptick in large transactions, data reveals
Data from blockchain analytics firm IntoTheBlock reveals an interesting trend seen by Ethereum over the past couple of days, with the crypto seeing an over 120 percent rise in large-value transactions.
Large transactions – defined as those being worth over $100,000 – rose from 360 on April 15th to 819 the next day. This rise coincided with the release of the Grayscale data as well as a price rally from lows of $150 to highs of $175.
ETH has seen a significant uptick in large transactions in 2020, with the average number rising significantly from that seen throughout most of 2019 – when they hovered at roughly 180 to 290 per day.

The rise in this figure may be the result of heightened institutional involvement within the market, a positive sign for Ethereum's fundamental growth.
The above advertisement is an referral link.
Like what you see? Subscribe to CryptoSlate
Get our daily newsletter containing the top blockchain stories and crypto analysis straight to your inbox.
Disclaimer: Our writers' opinions are solely their own and do not reflect the opinion of CryptoSlate. None of the information you read on CryptoSlate should be taken as investment advice, nor does CryptoSlate endorse any project that may be mentioned or linked to in this article. Buying and trading cryptocurrencies should be considered a high-risk activity. Please do your own due diligence before taking any action related to content within this article. Finally, CryptoSlate takes no responsibility should you lose money trading cryptocurrencies.