Ethereum (ETH) has been closely tracking Bitcoin's price action over the past couple of weeks, which allowed it to post massive gains throughout the first part of the month, before setting a local top that has been followed by firmly bearish downside.
In spite of this, analysts are noting that Ethereum is fast approaching a key technical support level that is brimming with buy orders, which means that a visit to this level could catalyze a move to $200 or higher.
Ethereum

reels towards $160 as crypto markets begin establishing downtrend

At the time of writing, Ethereum is trading down just under 3 percent at its current price of $161.80, which marks a notable decline from its daily highs of $166 that were set around this time yesterday.

Over a slightly larger timeframe, it becomes apparent just how notable the cryptocurrency's recent downtrend is, as it is currently trading down from intra-rally highs of nearly $180.

This poor price action has led the cryptocurrency to retrace over 10% from these highs, which has come about in tandem with Bitcoin's fall from highs of $9,200 to its current price within the lower-$8,000 region.

It is important to note that Ethereum has formed a bullish technical formation on its weekly chart, which Satoshi Flipper – a popular crypto analyst on Twitter – explained could lead the crypto up towards highs within the $300 region after one more sharp pullback.
"ETH Weekly Heikin Ashi = Bullish," he said while pointing to the formation seen on the below chart.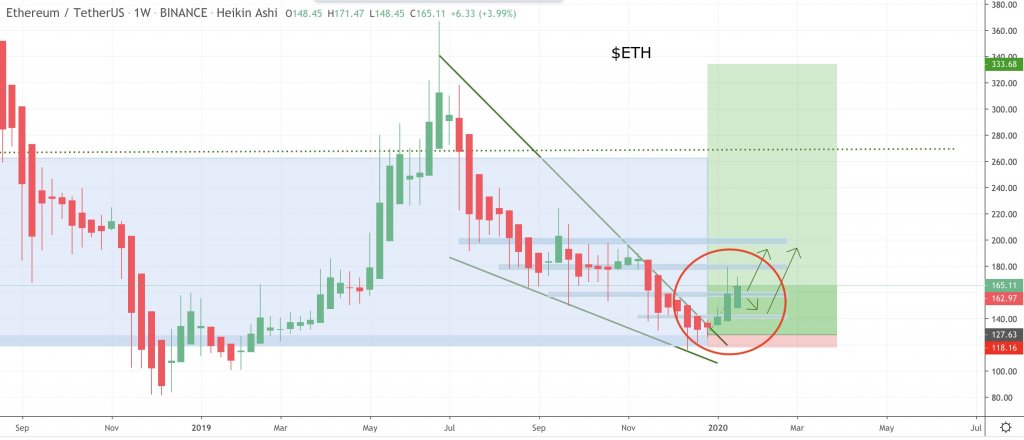 The next ETH pullback could spark a violent upwards movement
Satoshi Flipper is not alone in believing that Ethereum could see one more pullback before it posts a massive rally, as Calmly, another respected cryptocurrency analyst, noted that he is eying a pullback to $155 before it rallies to $180 or higher. He explained:
"Ethereum / ETH – I'm still not convinced we see bullish continuation yet. Last time we were at this weekly s/r lvl, we consolidated for 12 weeks before finally breaking down. I think it will take more than one test of this lvl for it to break. I expect to see ~$155 before $180."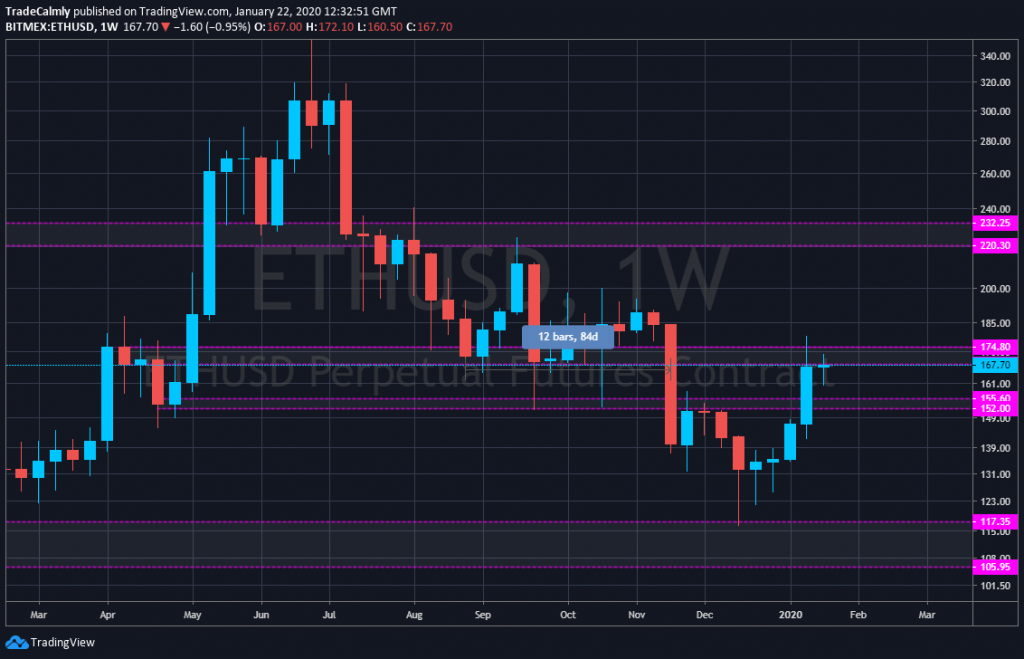 Although ETH's ongoing selloff may cut slightly deeper, it is likely that this will act as a catalyst for further gains.
Ethereum, currently ranked #2 by market cap, is down 3.51% over the past 24 hours. ETH has a market cap of $17.51B with a 24 hour volume of $10.41B.
Chart by CryptoCompare
Posted In: Ethereum, Altcoins, Analysis, Price Watch
Like what you see? Subscribe to CryptoSlate
Get our daily newsletter containing the top blockchain stories and crypto analysis straight to your inbox.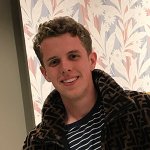 Cole is a freelance journalist based in Southern California, where he's an undergraduate at the University of California, Irvine, studying philosophy. He focuses primarily on covering cryptocurrency and blockchain-related news. He owns a non-life-changing sum of Bitcoin and enjoys day trading.
Disclaimer: Our writers' opinions are solely their own and do not reflect the opinion of CryptoSlate. None of the information you read on CryptoSlate should be taken as investment advice, nor does CryptoSlate endorse any project that may be mentioned or linked to in this article. Buying and trading cryptocurrencies should be considered a high-risk activity. Please do your own due diligence before taking any action related to content within this article. Finally, CryptoSlate takes no responsibility should you lose money trading cryptocurrencies.