ETH/USD dip as low as $170 after eyeing a bottom at $165.
Ethereum now does not seem to be a haven for investors of cryptocurrency.
The bearish zone strengthens.
Ethereum, one of the major and the leading altcoins is hitting bottom by currently trading the key support at $170. While Bitcoin has also weakened a bit but still consolidates above $10,000. As per the market position of the coin, the investors were looking for a gainful week of the market boom. However, Ethereum remained almost flat throughout the whole trading week.
The current trading price area has no rooted support from any moving averages and is also encircled by solid selling pressure.
Ethereum Price Chart by TradingView: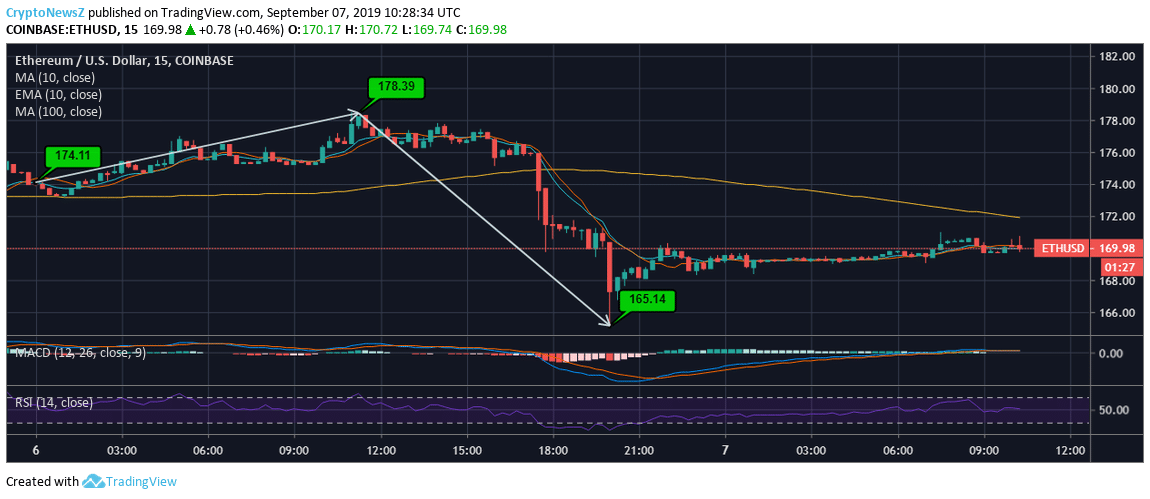 Tracing the 15 mins movement of the coin over the past 24 hours, we see that ETH to USD was trading around $174.11 in the initial hours of the day. To everyone's surprise, the Ethereum price gained the momentum to trade at $178.39, to fall again at $165.14. The ETH price tested the support levels at $170 and $165 and plunged by 7.42% around the same hour of the day.
Today, Ethereum is trading almost flat with a few instances above $170 and the current trading rests at $169.98 (data feed from Coinbase), at the time of writing (10:28 UTC).
ETH Technical Indicators:
The current trading price is notably lower by 2.74%, 1.75%, and 27.89% from 10-day EMA, 10-day SMA, and 100-day SMA.
The MACD indicator now appears flat after rising from the negative axis. The current trends show a strong bearish crossover, as the signal overpowers the MACD line.
The RSI of the coin remains around 50 with moderate volatility.