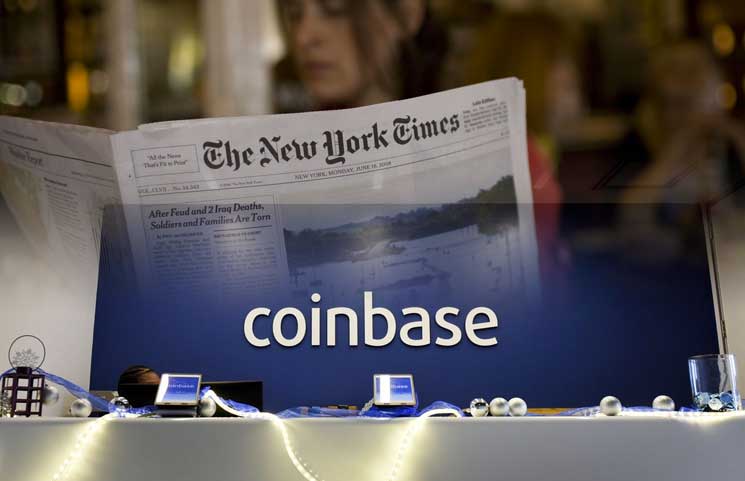 A lot of negative criticism has been made by different sources in the financial sector in recent times, about the digital asset market, many calling cryptocurrency a 'bust', the most recent encounter resulted in a clash between the New York times and Coinbase's President/COO, Asiff Hirji.
More irony on the day bitcoin spikes https://t.co/c05g3cadYf

— Asiff Hirji (@AsiffHirji) April 2, 2019
New York Times VS Asiff Hirji
The article which was titled 'Amid Bitcoin Uncertainty, 'the Smart Money Knows That Crypto Is Not Ready,' by the New York Times, talked about how the digital currency market failed to attract many institutional investors to the crypto market.
These part of the article will give a more in-depth understanding of the article's stance.
"Some cryptocurrency enthusiasts had hoped that the entrance of Wall Street institutions would give them legitimacy with traditional investors. But their struggles (and waning interest) illustrate the difficulty in bringing Bitcoin from the fringes of the internet into the mainstream financial world."
Asiff Hirji responded to the article by saying that it was 'ironic' because BTC broke the 5000 USD barrier(after a 15% sudden hike) the same day New York Times published the article.
He added :
"Crypto is more than ready. @coinbase offers a scale, insured, Qualified Custodian; the deepest compliant pool of liquidity and agency-only execution (we do not trade against our clients). Smart money is already in crypto."
Bakkt And Goldman Sachs
Using ICE's Bakkt and Goldman Sachs as examples, the New York Times talked about institutions that had problems when delving into the digital asset sphere.
Goldman Sachs initially halted its idea to launch a crypto-trading platform but was later greenlit. The lack or little enthusiasm from the prospective users is said to be one of the major reasons for the delay in the initial release.
Bakkt, which is a digital asset forerunner, and supposed to have a positive impact on the institutional investor section of the cryptosphere has delayed the launch of its cryptocurrency exchange platform many times because of certain regulatory issues.
Although no particular launch date has been given, Kelly Loeffler, the CEO of Bakkt, in a press statement said:
"With ongoing reports of crypto market manipulation and security concerns, the need for the solutions we're building at Bakkt is more critical than ever. It illustrates why regulated custody and market-based solutions for digital assets are at the core of our work to address risks that have discouraged many from interacting with digital assets."
BTC, BCH, ETH and XRP Forecast Analysis: Today's Top Crypto Price Predictions