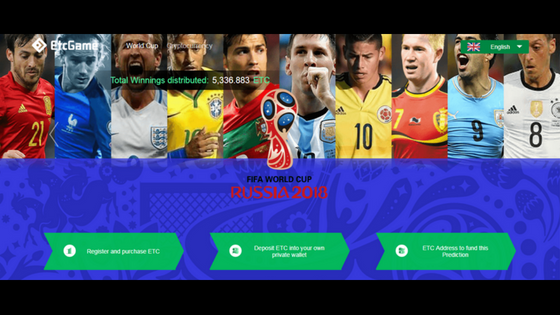 This is a paid-for submitted press release. CCN does not endorse, nor is responsible for any material included below and isn't responsible for any damages or losses connected with any products or services mentioned in the press release. CCN urges readers to conduct their own research with due diligence into the company, product or service mentioned in the press release.
ETCgame has enhanced again, this time, with an appealing interface and seamless user experience, visit the transformation at:  www.etcgame.com
With the upgrade of image processing, the new site brings smoother user experience.
In terms of user experience, the platform has been divided into two clear categories – "World Cup" and "Cryptocurrency", whilst separating each categories into three sections, "Open Orders", "Closed Orders" and "Settled Orders" to optimise user's experience.
Placing your prediction
Step 1: Ensure you have a working ETC wallet [WARNING: Wallets from Exchanges are NOT accepted, transfers made from an Exchange Wallet will be void], then transfer your ETC funds into your ETC wallet (Our next version will include an internal wallet).
Step 2: Select the prediction activity you want to participate in the forecast list and click to enter. Please read the prediction content, options, and related information carefully to avoid prediction errors. For this example, we will predict "Harry Kane" to be the World Cup Top Goalscorer.
Step 3: Select your prediction option and accept the service agreement. "Terms of Use" will pop up once a prediction option is selected.
Please read and understand all terms carefully and click 'Agreement' to participate in the prediction.

Step 4: After accepting the terms & conditions, you will be provided with the relevant forecast deposit address. You can transfer ETC to this address by copy and pasting the address or by scanning the QR code.
Step 5: Check the prediction history to ensure that the prediction has been successfully placed. After depositing the funds, please check your wallets history to track the transfer.
Step 6: Wait for your potential winnings! Once the event has finished, any winnings will be automatically transferred to your wallet. In unexpected circumstances, such as a match cancellation, original fund deposits will be returned to the users wallet.
World cup game options will include the popular prediction choices, such as 1×2, Asian Handicap and U/O. For further information on each game rule, please refer to the 2nd article.
For Cryptocurrency options, you can predict the daily rise or fall of certain cryptocurrency, or if the ending digit is odd or even.