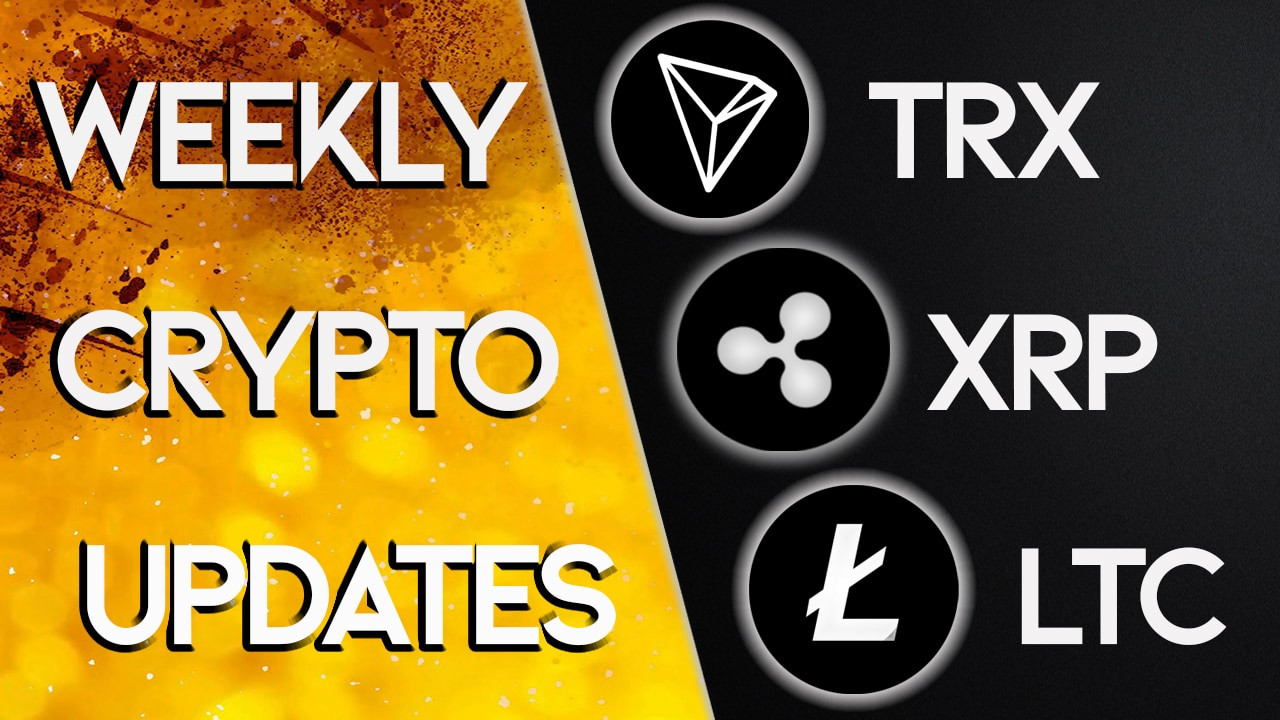 'Crashing market', 'falling values', 'lost investments', are all familiar sounding buzzwords, right? In times of financial meltdown, we always try to remain positive and say that 'don't worry, the markets will recover from this' and it is often hard to do so. However, in keeping with that trend, know what this market crash will not last forever, surely, a recovery can't be far away now?
When the markets fall in this way, good and positive news really does stand out away from the FUD (fear, uncertainty and doubt) that plagues the headlines. Thankfully, in order to inject a little bit of happiness into your weekend, we have hand picked some of the standout positive news stories of the week. Know that just because the markets are retreating, it doesn't mean cryptocurrency project shave given up. If anything, this period of downtime is allowing crypto projects to knuckle down and to continue progressing in time for the next bull run, whenever that may be.
TRON TRX, Ripple's XRP and Litecoin have all hit the headlines this week. Relax, whilst we explore what's happened in order to keep you up to date.
Before we begin, please do note that although now looks like the perfect time to buy, cryptocurrency investment is very risky. If you decide to invest in any of the following cryptocurrencies you should always do so based on your own research. Only invest what you can afford to lose.
TRON TRX
TRON is no stranger to headline breaking news. Once again, this week, TRON has made more positive movements and continues to assert itself as one of the best looking cryptocurrency projects moving into 2019. For the first time in a number of months, the native token to the TRON platform, TRX, had moved up the rankings to became the tenth biggest cryptocurrency on the 6th of December 2018. The increase in the market cap of TRON, seems to have done the complete opposite to that of it's biggest rival, Ethereum, which has had a shrinking market cap for a number of weeks now. Formerly referred to as the 'second' biggest cryptocurrency in the world, Ethereum now sits in third place.
https://soundcloud.com/cryptodaily/exciting-news-for-tron-trx-xrp-litecoin
Not only has TRON been in the news for creeping ever closer to Ethereum, the TRON blockchain has broken headlines this week for breaking yet more transaction records. It's common knowledge that TRON can handle more transactions on it's blockchain than Ethereum, in a short space of time, however, as time goes on it seems the gap between the two is ever growing, with TRON showing it is capable of far more than Ethereum.
Ripple XRP
Once again, Ripple XRP has been in the news. This is hardly a rare occasion. As the second biggest cryptocurrency by market cap, you should expect to be reading about XRP on a regular basis, however, news out on the 6th of December pointed us all towards a very exciting new announcement that see's XRP selected as the first cryptocurrency to be used by the growing universal payment settlement platform, R3.
R3 are the team behind Corda, this is exactly where XRP will be utilised as a currency, within the Corda blockchain. The CTO of R3, Richard Gendal Brown has commented on R3's move, stating that:
"The deployment of the Corda Settler and its support for XRP as the first settlement mechanism is an important step in showing how the powerful ecosystems cultivated by two of the of the world's most influential crypto and blockchain communities can work together."
This is a prime example of XRP adoption, not as a cryptocurrency that is being used in brick and mortar stores, but as a token that has a real use value on a corporate and institutional level. XRP was never designed to be used by you and me from the outset, rather, XRP was designed to solve the problems faced by many major financial institutions. This latest news seems to suggest that Ripple are doing just that.
Litecoin
Unlike XRP and TRX, Litecoin rarely breaks headlines. This seems to be down to the fact that sadly, there has been very little movement from the Litecoin Foundation recently and within the Litecoin network. Of course, development is still on-going but overall, the project has been a little quiet, as it has been since the failure of Litepay earlier on in the year.
Even so though, Litecoin has broken the headlines this week, all thanks to the movements of one Litecoin whale.
You might be wondering what a whale is? Well, according to Investopedia:
"A whale is term in the cryptocurrency world used to refer to individuals or entities that hold large amounts of cryptocurrency. Whales could also have a disproportionate impact on prices, fueling speculation that some of cryptos recent wild price swings were due to price manipulation by the whales."
This week, one such whale on the Litecoin network moved around 60% of the entire Litecoin market (35 million Litecoin) in the biggest Litecoin transaction since February 2018. The identity of the whale is of course a mystery, however it is confirmed that this sole user now owns around 15% of all Litecoin.  This isn't exactly good news, but it could go some way into helping control the volatility of Litecoin in the coming weeks and months.
As the week draws to a close and as we creep closer to the new year, we must start to ask ourselves what is coming next for crypto. Things feel a little tense at the moment, as if we are on the edge of something big. With this in mind, keep your eyes on Crypto Daily to ensure you never miss a beat. We'll be here with the breaking news when you need us!

Crypto Revolution Giveaway
Have you heard? Crypto Daily have launched their latest Ethereum giveaway, one that is set to inspire the start of a new crypto revolution!
Click here for more information