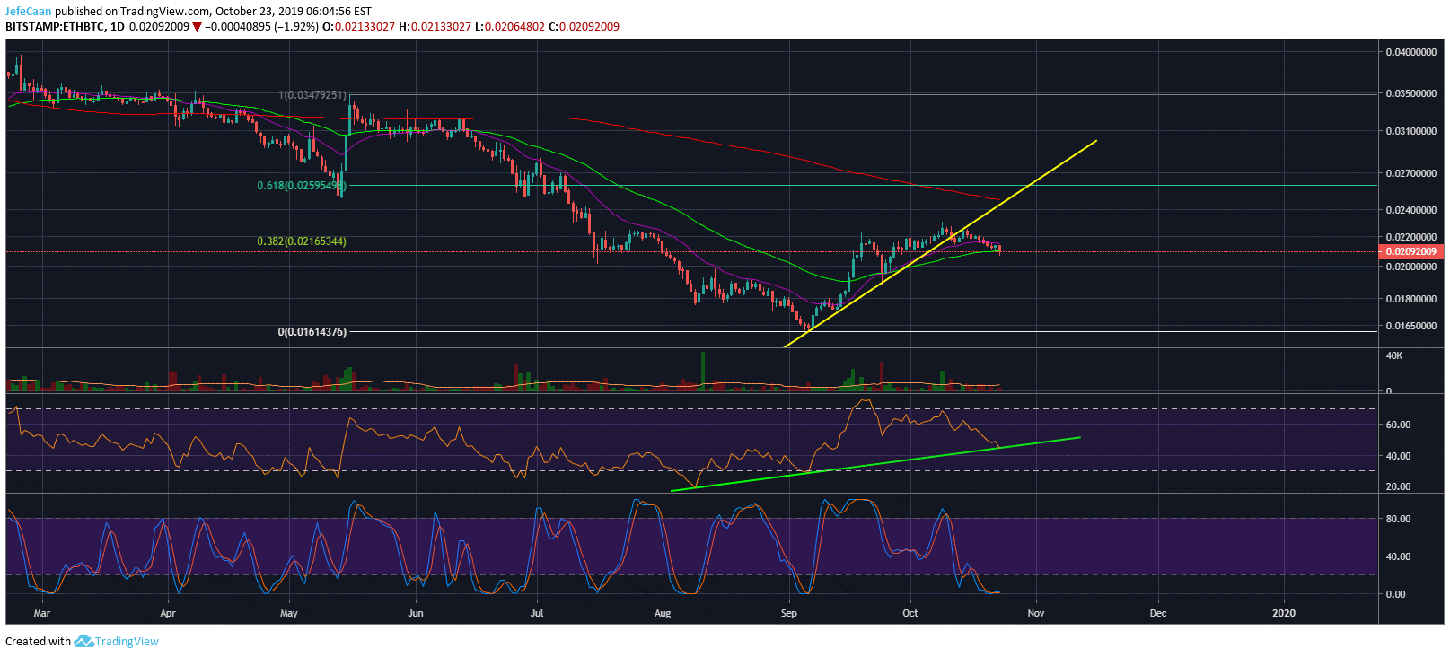 Ethereum (ETH) is all set to begin its uptrend against Bitcoin (BTC). The daily chart for ETH/BTC shows that the pair has found support on the 50 day EMA and could soon begin its uptrend. The RSI as well as the Stochastic RSI are both in favor of such a move. This is line with our previous analyses on Ethereum (ETH) in which we have discussed how ETH/BTC is unlikely to begin its downtrend before it tests the 200 day EMA. After this uptrend, Ethereum (ETH) may finally be in a position to do that. The pair is likely to rally past the 200 day EMA to test the 61.8% fib retracement level before it declines.
The previously broken trend line support which will now serve as trend line resistance will play a key role in determining where the pair begins its downtrend from. Throughout the trading history of Ethereum (ETH), we have seen it follow in the footsteps of Bitcoin (BTC) for the most part. However, there are times when Ethereum (ETH) makes its own moves (mostly bullish ones). If ETH/BTC begins an uptrend from current levels, it would be in a good position to do that again. Recent bearish moves in the market and the manner in which the price has been declining seems like the perfect trap to mislead retail bears just before a series of pumps to the upside only to liquidate their positions afterwards.
The 4H chart for ETH/USD shows that the price still remains within a falling wedge and it is ready to shoot up from current levels. It is pertinent to note though that as we can see on the chart there is still plenty of room for the price to fall before it can go up. It would be unreasonable to enter high leverage bullish trades just yet because the price has not broken out of the falling wedge just yet and before it does that, we cannot say for sure how low it is going to fall.
The near term outlook of Ethereum (ETH) will remain unchanged even if it falls below this falling wedge and enters the larger falling wedge. Such temporary bearishness in the market is just methods market makers and whales use to trap in retail traders. This has happen on both sides and to them it makes no difference. As long as the trading volume remains this low, we can expect such manipulation to continue especially as the stakes are this high. However, a bullish break out is long overdue and we are very likely to see it in the days and weeks ahead.