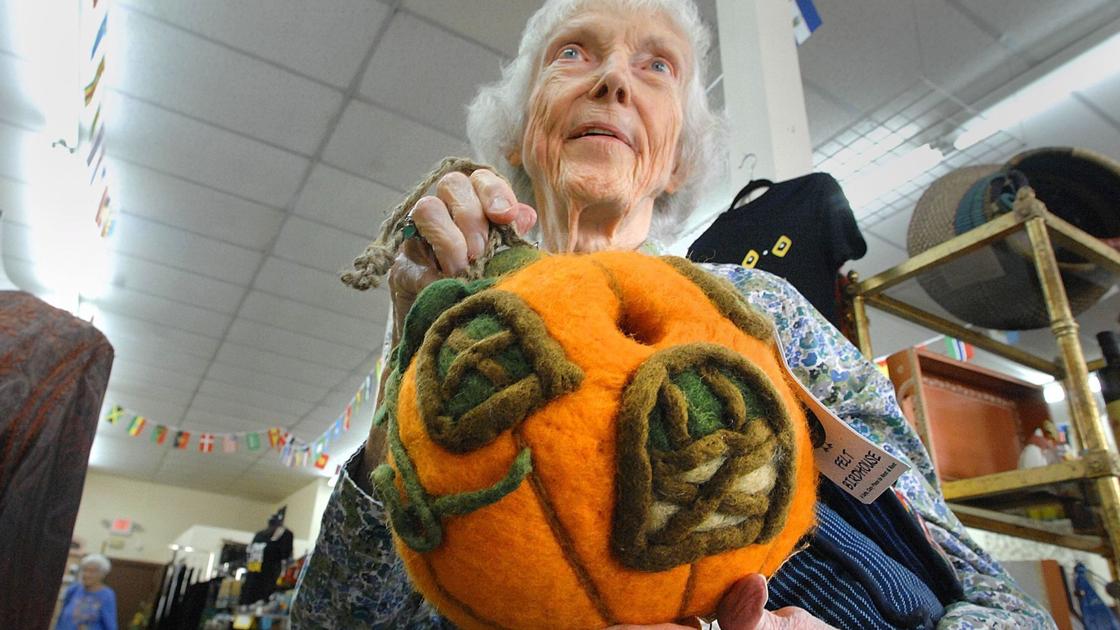 BLOOMINGTON — Thirty years ago, Charline Watts and Marilyn Townley had a vision to try easing human suffering. 
They co-founded Crossroads Handcrafts of the World in downtown Bloomington in hopes of "creating a ripple for change" by assuring artisans in impoverished areas they'd get a fair return for their labor.
In other words, it would be a fair trade shop.
Watts, 84, and Townley, 88, are among 60 volunteers who continue to operate the outlet for "fair trade" merchandise. Both now reside at the Westminster Village retirement community in Bloomington.
Crossroads' varied merchandise includes chocolate bars with cocoa from Ghana, produced with no child labor; clothing and bags made in India by women rescued from sex trafficking; handmade jewelry from Kenya that allows women to reinvest in themselves; and intricately carved metal wall hangings from Haiti, made with discarded oil drums.
Its major celebration, from 9 a.m. to 2 p.m. Saturday, will feature events inside the store and at outdoor temporary parklets in front and on the side of the building at 428 N. Main St.
She has visited participating artisans in Indonesia, India and the Philippines and was pleased to see "they had very good working conditions," Townley said.
"The most important thing for people to know is we're not a charity,"she added. "Our overriding purpose is to transform the way retail business is done so it values people and the planet."
The store embodies what business schools call social enterprise, said Watts.
"Social enterprise is a business, but it has a higher purpose for the common good," she explained.
Store manager Donna Brouillet, who works part-time, is Crossroad's only paid employee. Its first manager, Carol Schrantz, supervised the store for 14 years unpaid.
The two store founders' passion about fair trade helped garner enough enthusiasm from the community through volunteers to get Crossroads up and running and keep it going, said Brouillet.
"For 30 years, to have volunteers keep this shop open says an awful lot about the commitment from the community," added Pat Fitzgerald, a volunteer who coordinates the volunteers. "Many of our volunteers have been here for 15 to 25 years."
"They are interested in helping other people who don't have the opportunities that we have," said Brouillet. "It's a way for us to be able to support our brothers and sisters across the world."
Before moving to its current location in 1995, Crossroads occupied the former Western Union storefront, which also was in the 400 block of North Main Street.
Saturday and other celebrations 
On Saturday, Crossroads and several neighboring businesses will have sidewalk sales. Bobzbay, 419 N. Main St., is hosting the band Porkbellies, so there will be live music for the event.
Ivy Lane Bakery, 405 N. Main St., will have a pop-up bakery inside Crossroads. Nightshop, 517 N. Main St., will have a tent to offer breakfast specialties. Reality Bites will serve lunch in the parklets. Mimosas and margaritas will also be offered on the patio in front of Reality Bites, 414 N. Main St. 
Face painting, henna tattoos and an elephant scavenger hunt will take place inside the store. The West Bloomington Book Bicycle will also be participating.
The celebration continues on Oct. 29 with activities planned from 10 a.m. to 7 p.m., including Jamboo cake, treats, in-store sales, and a drawing for the winner of a $30 gift certificate. Mata Trader from Chicago will display some of its dresses. Wine and cheese will be served during the trunk show.
Contact Maria Nagle at (309) 820-3244. Follow her on Twitter: @Pg_Nagle